Ref:
Date:
Details:
Photographer:
[clikcontent type=paymentBuyLink replaceable=true]
Ref:
Date:
Details:
Photographer:
[clikcontent type=paymentBuyLink replaceable=true]
Hasselblad 'Our World' Interview with Tim Wallace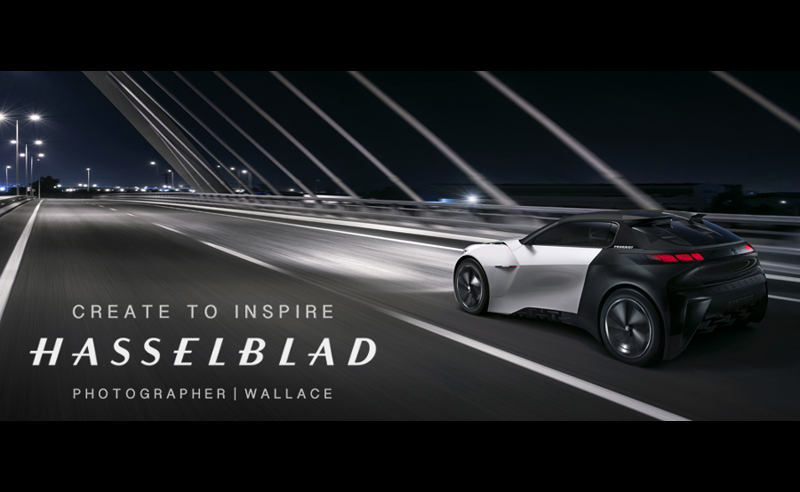 09/12/15
Today Hasselblad Global launched a interview that commercial photographer Tim Wallace in their 'Our World' features that showcase the best work being produced within the industry.
Tim talks to Hasselblad about his recent commercial work for car giant Peugeot when he was tasked with shooting their new concept car, the Fractal, which was exclusively shot in the manufacturers Paris studios.
HASSELBLAD Global Website
Tim Wallace - Our World Feature Interview
Read the full feature
When leading automotive photographer Tim Wallace received a top secret brief to photograph the latest Peugeot concept car in Paris he decided it was the ideal opportunity to team up with the CMOS powered Hasselblad H5D-50c.
Car manufacturers are notoriously guarded about their latest models, so when Peugeot approached Cheshire-based Tim Wallace last summer to photograph the brand new concept car he wasn't shocked to discover the commission came with a non-negotiable proviso: the shoot had to take place behind locked doors in the company's own in-house studio in Paris.
"The new model even arrived on the set under cover, just in case anybody in nearby flats caught a glimpse," Tim recalls, "and despite the fact that Europe was in the middle of a heat wave at the time and it was 35c in Paris, we still had to work with the studio doors closed. That meant that when the lights were switched on and pumping out heat we were recording sweltering temperatures inside in excess of 42c. Frankly, it became almost unbearable at times."
It was a pressure cooker of a job in more ways than one, with just four days allocated for the shoot and the team working for over 12 hours at a time on occasions.
On the face of it maybe this might not appear to be the best of times to switch over to a new camera, but Tim looked at the job and decided that this was an assignment perfectly suited to the strengths of the Hasselblad H5D-50c.
"I've been a Hasselblad user for the last seven years," he states. "I love the reliability of my H3D but most of all I love the lenses and now I have quite a selection. When I was planning to upgrade I looked at the H5D-50c, which came with the benefits of a CMOS sensor, and it promised to deliver the best use of my existing equipment on the same platform."
The confidence was well placed, and despite the soaring temperature the H5D-50c never missed a beat. "We had no issues whatsoever," says Tim, "no matter how we used it, whether that be attached to a FOBA tripod head as normal or being suspended over the car from 15m above, upside down and being operated remotely. Having that sort of reliability and, more importantly, the confidence to push the equipment and crack on at a fast pace really helped a huge amount. It proved to be the perfect tool for the job and I was very impressed and happy with my choice."