Professional Photo Magazine - Interview Feature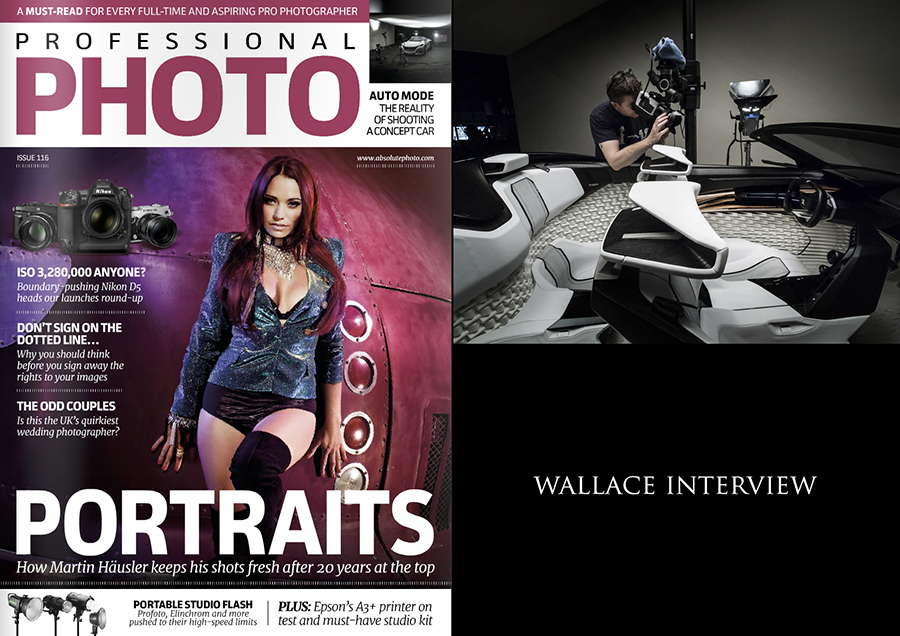 This months edition of Professional Photo Magazine is now available and has a feature interview with Professional Commercial Car and Automotive Photographer Tim Wallace. The article centres around Tim's work and a shoot that he did for Peugeot at their Paris Design Centre for their new concept car, the 'Fractal'.
ISSUE 116 PROFESSIONAL PHOTO
16/02/2016
This months edition of Professional Photo Magazine is now available and has a feature interview with Professional Commercial Car and Automotive Photographer Tim Wallace. The article centres around Tim's work and a shoot that he did for Peugeot at their Paris Design Centre for their new concept car, the 'Fractal'.
BEHIND CLOSED DOORS
Photography ©TIM WALLACE
Interview by TERRY HOPE
The motor industry is notoriously secretive about its new models, so when Tim Wallace was asked to picture Peugeot's latest dream machine it was no surprise that the job required total discretion...
Tim Wallace is used to working around the sometimes meticulous requests of the motoring industry. In his time he's tackled full-on commissions for the likes of Jaguar Land Rover, Mercedes and Morgan, as well as shooting for some of the world's most iconic brands,
such as Lamborghini, Aston Martin and Ferrari in Europe, and Dodge, Chevrolet and Mustang in the US.
He thrives on the pressure and has the accolades to prove it: honours include being named International Commercial Advertising Photographer of the Year and UK Motor Industry Professional Car Photographer of the Year, confirming his reputation as one of the best
in the business. One of the things anyone shooting pictures for the car industry realises very quickly is that there is so much competition between the various brands, and such an insatiable demand from motoring enthusiasts to hear about fresh models as soon as possible, that there's often a high level of secrecy required to ensure that the latest launches aren't revealed to the world before the manufacturer intends.
So in many ways it wasn't a huge surprise for Tim, having been approached by Peugeot last summer to produce a massive international campaign for its latest 'Fractal' electrically powered concept car, that he learned the latest shoot was to be carried out strictly behind closed doors. There was a slight problem with this stipulation, however: at the time France was in the middle of a heat wave, and the crew realised very quickly that this was going to become a pressure-cooker job in more ways than one. The temperature in the city was around 35°C, and behind those secretive closed doors – with huge Arri continuous studio lights pumping out still more heat – it quickly climbed to over 42°C at times. Almost unbearable on occasions.
"Everything has to be done as discreetly as possible to avoid images of the car leaking out," says Tim. "This was why we were asked to undertake the shoot in the Peugeot's own in-house studio, which is situated in the middle of their plant in Paris. Everything was so hush-hush that the Fractal even arrived on set under a cover so that no one living in the flats near the location would
have the chance to see it. We also had just a very short window of opportunity in which to work – only four days. The team was working for over 12 hours at a time on occasions.
"But it was all worth it from my point of view because Peugeot is a great client and its design team is very strong indeed. It has great vision for how it wants to sculpt the photography around the product and branding. It's all very much about emotion, so when they
first approached me – through their production company – it was a very quick fit from a style point of view."
Planning the shoot
With any type of worldwide campaign it's crucial to ensure that everything is planned and worked out well in advance, so that during the critical days of actual shooting the team is free to concentrate fully on creating and producing the photography that's required.
The brief was to shoot the concept car in a way that showed off its technology and its revolutionary use of sound within the interior controls. Each shot was based on its final position within a CGI sound- based scene and carefully pre-agreed using visuals.
"I was very lucky to have Paris-based Cream Production taking control for this shoot," says Tim. "The team there is both dedicated and vastly creative. Having such a well-organised production house involved really helped to make sure that we were able to achieve the very best result possible for the client. Even with the huge amount of work to get through it was always a great atmosphere – very much a team effort with everybody pulling together for the common goal.
"I worked with my two lighting assistants, Peter and Hugo, who were both totally amazing and fully committed to making sure we got the best results possible. As with any lighting shoot you hit issues and problems that need to be resolved, and that again is where teamwork comes into play. I think we had a few moments when Hugo was literally using his own body weight to anchor the floating ceiling, while Peter ran round trying to switch lighting out that was quite literally on the point of exploding because of the heat." Given the tight timing and high pressure it might not have been the best of times to switch over to a new camera, but Tim decided that this was an assignment perfectly suited to the strengths of the Hasselblad H5D 50c. "I've been a Hasselblad user for the last seven years," he says. "I appreciate the reliability of the system but most of all I love the lenses, and over time I've built up quite a selection. When I looked to change my H3D it was an easy choice: I was looking for a camera that came with the advantage of a CMOS sensor and could make best use of my existing equipment on the same platform.
"I shoot a lot in the studio using powerful dedicated lighting, so low ISOs are usually fine, but the higher ISO speeds that the CMOS sensor brings meant I would be able to use the same camera for lighter, editorial type work in available light conditions. Previously I'd have had to shift back over to a DSLR platform for that. "I had been offered deals from other manufacturers to swap to their systems, but I really didn't want to lose the lenses I feel so comfortable with. I'd tested out the H5D 50c in advance and loved it and its simplicity. So I was happy to make the switch, both from a user point of view and from a business perspective."
Baptism of Fire
The baptism of fire – which came in the form of a boiling hot studio and intense working conditions – never worried Tim's new camera, which came through the experience unscathed. "We had no issues whatsoever," says Tim. "No matter how we used it – whether that be attached to a FOBA tripod head as normal or suspended upside down 15m above the car and being operated remotely. Having that sort of reliability and, more importantly, the confidence to push the equipment and crack-on at a fast pace really helped a huge amount." Tim and his team started out producing static shots of the car's exterior. They used the H5D camera tethered to an Apple MacBook Pro laptop with images being fed directly back to a digital retoucher. The retoucher compiled the individual frames and verified in real time that everything needed for the final image was in the bag, and it was safe to move on to the next shot. A highly efficient way of working, that enabled the
brief to be tackled as quickly as was practicably possible. "The most demanding shots were the overheads where we were looking down into the car, as the studio set-up did not allow a direct overhead viewpoint to be taken up," Tim recalls. "Instead I had
to work from a cherry picker – I climbed into it to set up the camera so that we were totally in the right position, lit the shot, then operated the camera remotely from the ground with the Macbook Pro."
Naturally – as with any car shoot these days – there was a certain amount of post-production required to finish off the images. But although the futuristic background was CGI generated, the car itself was relatively unaltered. "Apart from the process of cleaning up the images to get rid of any last-minute marks, the post-edit work was kept to a minimum," says Tim. "The fact that Pascal, my digital retoucher, was working on the files as they came out of the camera meant that once we'd finished the final shot the post-production was already 90% complete. I had overall control on the final sweep, mainly to tie all the images together as a set once the CGI background had been added." By the end of the intensive four-day shoot 45 images had been completed: an incredible achievement considering how involved and complicated some of them turned out to be. The success of the project is a testament to Tim's considerable photography skills. His striking set of images was used to launch the Peugeot Fractal at the Frankfurt Motor Show.
ISSUE 116 PROFESSIONAL PHOTO 069
CLIENT: Peugeot
LOCATION: Peugeot Design Centre, Paris
PHOTOGRAPHY: Tim Wallace
PRODUCTION: CREAM Paris
ART DIRECTION: William Blanc
PRODUCER: Sophie Roger
1ST ASSISTANT: Peter Keyser
2ND ASSISTANT: Hugo Mapelli
DIGITAL ASSISTANT: Pascal Aubert - Scalp Art
CAMERA: Hasselblad H5D 50C CMOS
LIGHTING: Arri
© Copyright Declaration
All images shown on this site are protected by
International Copyright Law and by the Copyright
Designs & Patents Act 1988.