Ref:
Date:
Details:
Photographer:
[clikcontent type=paymentBuyLink replaceable=true]
Ref:
Date:
Details:
Photographer:
[clikcontent type=paymentBuyLink replaceable=true]
Profoto Magazine Germany - News and Features with Tim Wallace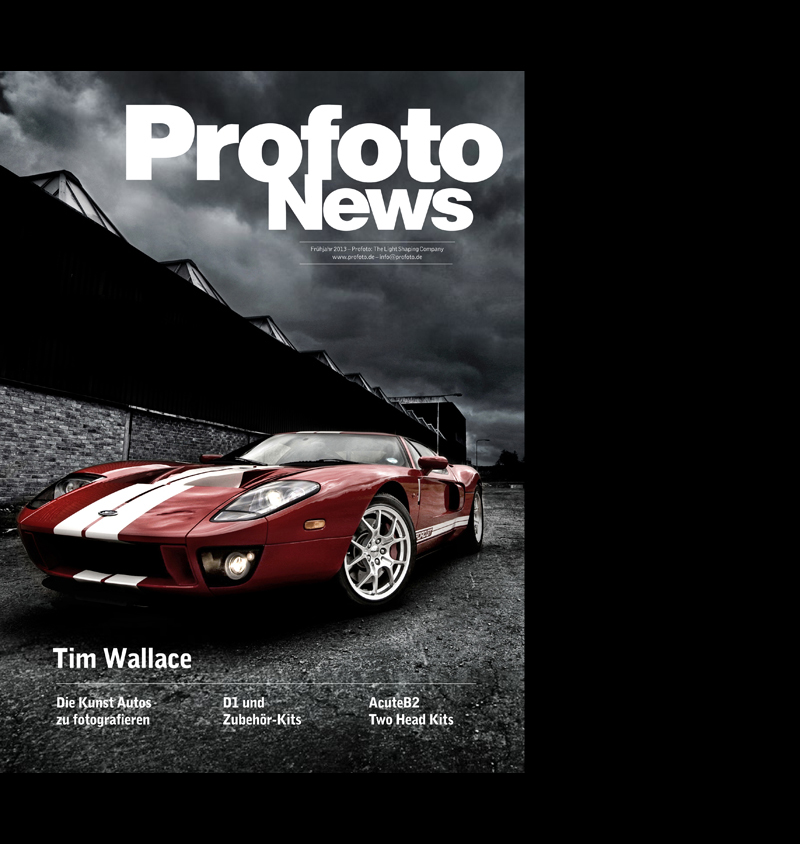 21/04/13
This month the work of commercial car and automotive photographer Tim Wallace was featured in the German Profoto News Magazine. The magazine features each quarter a cross section of work from cutting edge professional photographers from around the world and we were very proud to have Tim's work showcased in the magazine as well as being held across the front page of the Spring edition of the magazine. In the feature Tim talks about his work, his views and his lighting within his role as one of the top commercial car photographers in Europe today.
Profoto Germany Interview and Magazine Feature
Tim Wallace shoots cars. That is the short explanation. But it is somewhat misleading because looking at Tim's images you get the feeling that he not only shoots what is in front of the camera, but also what is hidden underneath the body of the car – its heart and soul.
"For me it's all about creating an emotional image," says Tim. "I mainly work in the prestige end of the car market, and such brands as Bentley, Jaguar and Aston Martin aren't sold with reason but with passion and emotion."
But as we all know, cars are not actually emotional. They are lifeless objects made of plastic and aluminum. So, how do you capture the passion and emotion in something like that?
"First of all, I spend very little time in the studio," says Tim. "Personally, I don't believe cars belong there. They belong on the road. That's where they come alive.
"It's also important to remember that you don't have to shoot the entire car to show its personality. Sometimes shooting just a tiny detail is enough, like the rear light on an Aston Martin DB5 or just a fraction of the grill on a Morgan Aero. I remember that when I first started working commercially, a lot of people told me that what I was doing was too much like art. But to me that was a positive thing, because like art, a really good car image should evoke an emotional response. Today, the most common compliment I get paid by my clients is … that it looks like art…
"Finally, light is fundamental. The camera is, of course, important. The lens is important. But when it comes to building up an emotion, nothing is more important than light."
As you might have guessed, Tim does not just photograph cars. He also teaches others to do the same, and being a self-taught photographer himself, he very much believes in the learning by doing methodology.
"Cars are difficult to light," admits Tim. "They're large, they're reflective and they're multi angled. So, I always say to those who are getting into the industry and want to learn the craft that the best thing to do is to get the best equipment you can and start shooting.
"Start with one light and experiment with the power, proximity and positioning of that light. Don't read books. Don't try to copy other people's work. It's like riding a bike. You need to fall off a couple of times to learn what works and what don't. It's a part of the process, or the journey, if you will.
"But the beginning of that journey is to have consistent lights. That's the only way to be certain that it's the power, the proximity or the positing of the light that causes whatever changes you observe. You need lights you can trust. And for me, Profoto is that light."